Talent INC U.K. is set to launch this October, and will host the first U.K. national conference aboard Royal Caribbean's "Independence of the Seas," and as a precursor a select few from the London area had the opportunity of lifetime to attend the US National Conference to see what Talent INC was all about. Judging from their experience, Talent INC cannot get to the U.K. fast enough.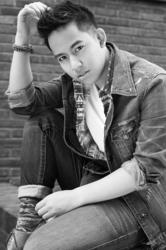 Meet Jordan Andrews, from
Talent INC UK
who had an absolutely amazing time while in Orlando, Florida for the Talent INC National Conference in March.
Mr. Andrews, has been in the business since he was 3 years old in the UK and the Philippines and to have such a great opportunity like Talent INC where he could be seen by some of the most influential Agents and Casting Directors in the American Market was truly "mind blowing", according to the young Londoner.


Jordan goes on to say, "I did Talent Inc, to take the next step in my career and move on to the next level by breaking into the US market and I had a great response with 10 callbacks and a great learning experience to return home with. Since returning to London, I have been writing more music and even more exciting than that, I have been preparing to move to LA! I am very excited to make the move and do my thing over in the US and I couldn't/wouldn't do it without the experience I had at Talent INC".


Jordan is no stranger to performing on a professional level. He started working at the tender age of 3 as a featured performer in special awards show event with the legendary Michael Jackson. Not to mention he was also a cast member in London's West End Production of Miss Saigon. He was truly bitten by the show business bug and he hasn't stopped since.


He later went on to productions of, The King and I, with Elaine Paige and Jason Scott Lee and TV soaps and dramas for the BBC. He then ventured out to his ethnic homeland of the Philippines and was the lead in two soap operas, had a spot on a Weekly Variety Show, A Christmas album and toured in Musical Productions such as West Side Story and Hairspray.


He's used many names during his career, including, Jordan Gumayagay (his real name), Jordan, Jordan G, Jordan Aguilar (his name in the Philippines) and none of these ever felt right, but whilst out at
Talent INC
this March, one of the agents said 'Why don't you just use your middle name' and the new Jordan Andrews was born.
Jordan went on to say, "I am now ready and very driven to take on the mighty challenge of becoming a TV and Film actor in the USA as well as a successful Recording Artist. I look forward to the new challenges I face and want to thank everyone at Talent INC for helping me take those very crucial first steps in the right direction."
Talent INC UK will be making a splash aboard the magnificent Independence of the Seas by Royal Caribbean which has every imaginable on board facility to ensure your enjoyment. With an incredible H2O Zone water park, the Royal Promenade with its enticing shops and cafes, plus the widest dining options you might not want to leave!


Selected Talent INC UK performers will be departing from Southampton (UK) docks and traveling to Zeebrugge (Brussels), Belgium; and Le Havre (Paris), France. Not only will they be part of the Talent INC training programme and receive 20 hours of exclusive training followed by the showcase and networking opportunities, but they will do all of this in the luxurious surroundings of a mini cruise.


Auditions are taking place in various venues across the U.K. in preparation for the U.K. launch. One of the unique aspects to Talent INC is the free public outreach workshop where parents and young performers will learn about the entertainment industry, and how to avoid the pitfalls often associated with it.


To register for the highly acclaimed workshop with Scott Cooper please visit Talent INC UK, and fill out the on line submission form available on their main website.